Stuntman / Stunt Coordinator SAG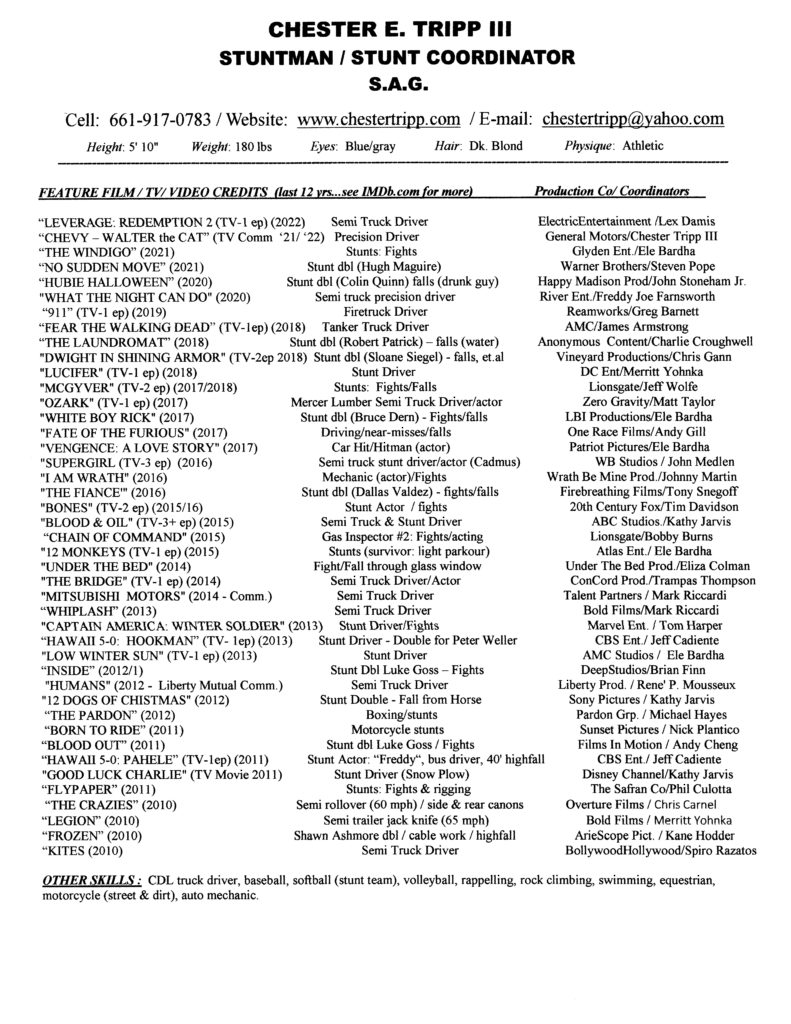 30 Years Of Experience As A Professional Stuntman (SAG)
My film experience includes stunt & precision driving, semi truck stunts, fire burns, fights & falls, near misses and more.  I have had a CDL for 15 years.
At this stage of my career, 
I am focusing mostly on precision & stunt driving (auto, semi, motorcycle) and stunt coordinating.
I am no longer the "ground pounder" I used to be so I would rather NOT do stunts involving car hits and/or hard hitting fight scenes, although controlled stage fighting is still on my work list as is high falls & fire burns. 
Chester was born in Wauseon, Ohio to Chester (Jr.) and Patricia Tripp. Being a III, Chester was given a nickname by his family. Because of the haircuts that his grandfather would give the grandchildren, Chester was nicknamed "Butch" and is still called "Butch" by his family and childhood friends.  His parents moved to Michigan shortly after he was born.
Chester was the first of 6 children. Hard times caused the family to break up and be sent into foster homes. Chester was in and out of foster homes from the age of 4 to the age of 17.  Chester endured abusive situations in several of his foster homes as well as from his first step mother.
Due to the foster care, Chester attended several different schools, the last being Addison High in Addison, Michigan. Despite his hardships, Chester was the star running back on his football team and became a 2x Toledo Golden Glove Middleweight Boxing Champion. After losing a close 3-2 decision to the then current national boxing champion, Chester stopped boxing and started playing pool for money.
It is no wonder that Chester became a stuntman. He was a risk taker from a young age. As a teenager, he would drive on the frozen Michigan lakes, jump out of barn lofts into hay stacks, walk on railings of tall bridges and shimmy up tall light poles at the local mall to hang off of the light bar at 80′ up! At 11 years old, he would jump his mini-bike over small objects and once attempted to jump across a 2-lane road (ditch to ditch) and was stuck by a car traveling 50 mph. Chester nearly lost his life.
Chester started his stunt training in 1987. In 1991, he came to Los Angeles to audition for the TV show "Gladiators" (qualifying 137th in the nation out of approx. 10K contestants) and stayed to pursue his stunt career. After over 30 yrs in the business, Chester is a seasoned stunt professional. He has had experience in just about all areas of stuntwork including coordinating. Chester loves being a stuntman feels fortunate to be successful in the business.
He is also a devoted husband and a proud father of 3 children and 5 grandchildren.  In 2012, Chester returned to his roots and is now living in SE Michigan. See less
If you would like to speak with me about stunts in your upcoming project or my availability as a stuntman, feel free to contact me.  You can reach me at the following:
             Email:  Chestertripp@yahoo.com    /    Cell:  661-917-0783   /    Social Media (click link below)